The South Australian Intensive Care Association
SAICA is a not-for-profit organisation, formed in 2009.
The aims of the organisation are to:
Facilitate the organisation and running of various ICU training courses run in South Australia.
Promote registrar teaching and research.
Provide funds to assist medical students and ICU trainees in conducting research and to present at national and international meetings.
Registered CICM trainees working in Adelaide, interested in applying for financial assistance should contact their respective supervisor of training in the first instance.
Medical students completing their honours studies, who have an interest in ICU, should apply using this form (PDF).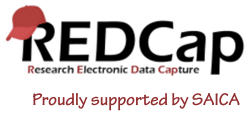 SAICA also supports an implementation of REDCap to support larger projects undertaken within South Australia